Categories:
Fashion
& Other Stories Tortoise O-Ring Wrap Midi Dress
and
Studded Strappy Stiletto Heels
& Other Stories channels 1970's disco style with the launch of its new trend guide. Called 'Frock Stars', the fashion shoot features models wearing vintage inspired dresses and separates. From the classic wrap dress to wide-leg pants and form-fitting bodysuits, these pieces will easily fit into your new season wardrobe. Paired with strappy sandals and statement necklaces, up your style game with & Other Stories.
Related: Riviera Riders | 6 Vacation Looks From & Other Stories
& OTHER STORIES 'FROCK STARS' LOOKBOOK
& Other Stories Curved Hem Midi Wrap Dress
,
Studded Strappy Stiletto Heels
and
Small Suede Fold Over Bag
& Other Stories Twist Knot Midi Dress
and
Studded Waist Belt
(Left)
& Other Stories Curved Hem Midi Wrap Dress
(Right)
& Other Stories Plunging Crinkle Swimsuit
,
Tapered Linen Blend Trousers
and
Voluminous Hairband
(Left)
& Other Stories Twist Knot Midi Dress
and
Studded Waist Belt
(Middle)
& Other Stories Striped Scoop Bodysuit
and
High Waisted Belted Trousers
(Right)
& Other Stories Tortoise O-Ring Wrap Midi Dress
comnum(0) tbcount(0) tbcount(22)
Categories:
Fashion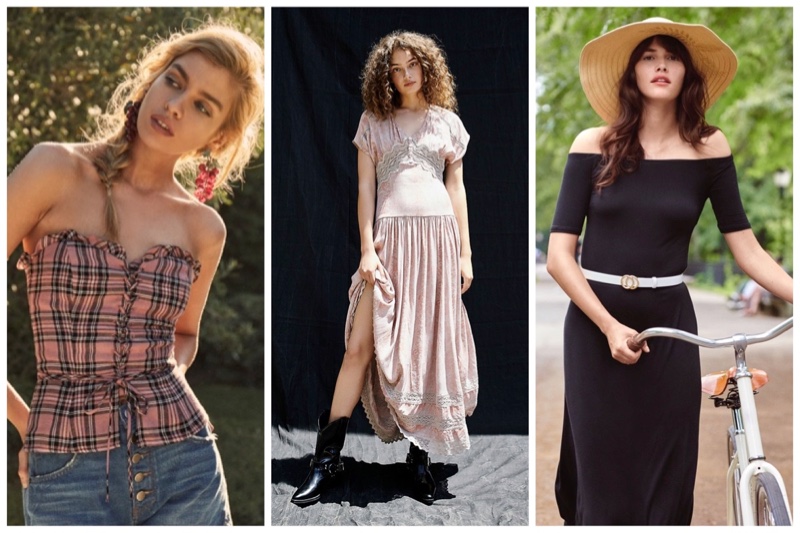 See what to wear for August 2018
Summer may be winding down for August 2018, but there's still plenty of sun left. Looking for the perfect outfit? We rounded up the cool styles great for the warm weather season. From breezy maxi dresses to one-piece swimsuits and patchwork denim, get ready to update your late summer wardrobe. For accessories, wide-brimmed hats and statement sunglasses will round out your look. Want even more outfit ideas for August? Take a look below!
Related: 7 New Dresses From Reformation
AUGUST 2018 OUTFIT IDEAS
Reformation 'Catania' Top in Bel Air $128
A corset inspired top features lace up detail as well as a sweetheart neckline.
Endless Summer 'Carino' Mini Dress
Warby Parker 'Bryant' Sunglasses in Polished Silver with Classic Grey Lenses $145
Sharp sunglasses come in clean lines of polished metal with a semi-rimless navigator shape.
H&M Off-the-Shoulder Dress, Straw Hat with Embroidery and Narrow Belt
Reformation 'Eliza' One Piece Swimsuit in Cherry $98
Heat up summer in a red one-piece swimsuit made with a form-fitting silhouette.
Tiffany & Co. 'Hardwear' Sunglasses in Black/Blue $380
Refined yet glamorous, these round sunglasses feature crystal embellishments at the temples.
RAYE x House of Harlow 1960 'Leilani' Slide $138
Embellished with sequins, this slide sandal features a leather sole.
Dolce & Gabbana Sleeveless Fit and Flare Grape-Print Cocktail Dress
Michael Kors 'Savannah' Sunglasses in Pink/Purple $179
A rounded cat-eye silhouette features a strong brow for a playful look.
& Other Stories Square Neck Tank Top and A-Line Button Mini Skirt
Reformation 'Corfu' Dress in Aloha $198
Look cute in a printed minidress featuring a sweetheart neckline and midsection cutout.
Free People 'Prairie' Flower Maxi Dress
NBD x Naven 'Cut the Line' Bodycon Dress $180
Turn up the heat in a ruby-red dress made with stylish cut-outs.
UO Striped Tank Top and Patchwork Utility Pant
comnum(0) tbcount(0) tbcount(27)
Categories:
Fashion
Fresh face Imade Ogbewi sparkles on the cover of AI Creative's 5th issue. Lensed by Stockton Johnson, the model's body gets painted with red glitter. For the accompanying spread, Imade wears scarlet beauty looks. Hair stylist Deborah Briderworks on her natural coif with bold makeup by Christine Cherbonnier. Takayuki Sekiya works on styling for the shoot.
comnum(0) tbcount(0) tbcount(36)
Categories:
Other Brands
How can we hit two bags in one? The solution is the Chanel Camera Case With Flap introduced for the Pre-fall 2018 Collection. But when the bag was launched, our main concern was – how does it look like on the shoulder? Because the style is quite sophisticated, especially with the flap on the front.
The Design
But there are more sophisticated details to look at. First the big squared-shaped camera case is crafted in chevron quilting. And that while the small-sized flap bag is designed in diamond quilting.
The front flap bag is almost the exact copy of the Classic Flap Bag. Besides the diamond quilting, it's made with the signature smooth CC logo.
The big Camera Case comes with two ways of carrying. It's designed with the woven chain leather strap style. The chain strap is long enough to carry cross body or on the shoulder.
Both bags are made from calfskin, which is durable and strong leather. However, there is another thing you should note and that's the eye-catching bi-color. The Camera Case and the Flap Bag are made with two different shades, but the colors are matching.
The Interior
The Camera Case With Flap comes with two pockets. The picture might show that the Camera Case is big, but there are two sizes. The small size is a relatively good size as an everyday bag. The Camera Case offers one big main compartment to store all your necessities while the front flap can be used for easy access to your essentials.
The Prices And Sizes
Chanel Small Chevron Calfskin Camera Case With Flap
Style code: A57284
Size: 8.2′ x 2.7′ x 8.6′ inches
Price: $4200 USD, $5200 CAD, €3550 EURO, £3190 GBP, $6050 SGD, $32500 HKD, $5910 AUD, ¥497880 JPY, ¥29100 CNY, ₩4950000 WON
Chanel Chevron Calfskin Camera Case With Flap
Style code: A57285
Size: 9.1′ x 4.7′ x 11.4′ inches
Price: $4500 USD, $5600 CAD, €3850 EURO, £3460 GBP, $6570 SGD, $35300 HKD, $6410 AUD, ¥540000 JPY, ¥31600 CNY, ₩5370000 WON
More Images And Colors
comnum(0) tbcount(0) tbcount(29)
Categories:
Fashion
See NBD x Naven's collaboration
NBD teams up with Los Angeles-based brand Navenfor a new collaboration. The collection focuses on smoking hot dresses and jumpsuits perfect for a night out on the town. From lace adorned styles to sexy cut-outs and high slits, these dresses will make you stand out from the crowd. A bold color palette of canary-yellow, ruby-red and purple magenta works perfectly for summer. See some of our favorites from the NBD x Naven collaboration below, and shop more at REVOLVE.com.
Related: Sweet Style | Discover Lover + Friends' Summer 2018 Dresses
NBD X NAVEN DRESSES
NBD x Naven 'Cara' Dress $148
Flaunt your figure in a yellow bodycon dress made with a one-shoulder silhouette.
NBD x Naven 'Jill' Dress in Hot Pink $168
Be the belle of the ball in a hot pink minidress featuring side cut-outs.
NBD x Naven 'Madeline' Jumpsuit $198
Channel 1970's vibes in a white jumpsuit made with a plunging v-neckline.
NBD x Naven 'Olivia' Dress $158
Stand out in this magenta mini dress including a halter neck and flared skirt.
NBD x Naven 'Allie' Dress $168
Look red-hot in a coral lace dress made with an off-the-shoulder neckline.
NBD x Naven 'Marissa' Dress $178
A canary yellow dress features one shoulder styling, a high slit and side cut-out.
NBD x Naven 'Cut the Line' Bodycon Dress $180
Turn up the heat in a ruby-red dress made with stylish cut-outs.
comnum(0) tbcount(0) tbcount(38)
Categories:
Fashion
Why even bother starting a clothing line nowadays? There are countless brands in the apparel industry. The total number is believed to be somewhere around millions. If you happen to be an aspiring fashion designer, it'll be difficult for you to start your label. The fashion industry is hyper-competitive, and you have to make a special effort to achieve success. Yes, competition is fiercer than ever, but if you have a hefty dose of creativity and you're business savvy, nothing will stop you from starting a business that will succeed.
The thing about the clothing market is that it never gets saturated, so you have a chance. People have and always will consume fashion. Nobody has failed because they are too many fashion brands. There is so much variety when it comes down to apparel, and people are consuming clothes more than ever. Starting a clothing line in 2018 isn't that difficult. You don't have to be rich to start your own business. Most importantly, you don't need a super model or a high-end photographer. All you need is a little bit of ambition. This post will show you how it's done
FIGURING OUT WHAT KIND OF CLOTHING PRODUCTS TO SELL
It's great that you want to start your clothing line. As someone who will be working with apparel, you'll have to decide what you want to sell. There are plenty of choices as far as apparel is concerned and fashion products. You have a tough choice to make. Did you have anything particular in mind? Maybe you see yourself selling hoodies. Or maybe you envision yourself selling pants. Here's a tip you'll want to check out: luxury lingerie. In the United Kingdom, women are spending crazy amounts of money on deluxe lingerie. It doesn't matter what you opt for. Just make up your mind. But don't rush the process. Carefully consider all the options before making a decision. Each apparel options have their advantages and disadvantages. You'll be building your business around one product, which is why you need to choose wisely.
HAVING THE RIGHT STORY
You have all the time in the world to set up a trendy clothing line. However, your efforts are going to be in vain if you don't create a story that resonates with the public. Effective storytelling can have a very good effect on the situation. Therefore, think about what story you want to present to the world. What you need is a brand story that improves trust – in other words, an authentic one. What's in a story, anyway? It's not mandatory to have a structure, but it's recommendable because it will help you with future projects. The most important thing to keep in mind is that the story isn't a branding material. To be more precise, you can't use it to promote your apparel business. If you want to attract and retain readers, you're going to have to tell a good story. Make it personal. People want to know all about your struggles and emotions. When you share something intimate, people feel like they can trust you. After all, you're pouring out your heart.
DESIGNING A UNIQUE PRODUCT
Now that you have a good understanding of the market and you have an idea of what people are interested in. Experts at CheckThem INC highly recommend looking up the people you sell your clothes to, but that's another issue. Until then, design your product. Your design will be presented in the form of a sketch. If you have no clue whatsoever about drawing, then look up videos on YouTube and learn how to make a finished picture. On the other hand, if you've got a good set of skills, get a piece of paper and start drawing. You can add colors and details like seams and buttons. Once you're done with the sketch, start creating patterns that can be transferred from the sketch to fabric. Making the first apparel sample can be difficult, especially if you have no idea what to do. You've defined the product idea and the sketch, so all you've got left to do is to create the sample. There is no time to waste, and the product should be launched as soon as possible.
CREATING AN EFFECTIVE PRODUCTION PLAN
Fashion designers such as Vivien Westwood have managed to get their foot in the door, in spite of the fact that they were self-taught. Let's go out on a limb and say that you didn't skip school. You have a formal education, and you know how to sew. This may be so, but you can't do all the work yourself. You need some help. Hiring a manufacturer is a good idea. The thing is that not all manufacturing companies are made equal. Put simply; not all manufacturers are capable of producing quality products.
You need to know everything there is about your new partner. Consider doing a background check. You can get hold of interesting things, such as social media profiles, criminal history, contact information. And pictures. Anyway, you should seriously think about it. You desperately need a team to help you out. Get professional assist. The easiest way to locate a manufacturing company is through referrals. Ask people in the industry if they know what types of products they create. Everyone will want to help you, so they will be thrilled to share their experiences. The representative of the company should provide you with a long list of happy clients. If they don't, you should know that something isn't right.
CREATING A BRAND FOR THE CLOTHING LINE
The clothing line is successfully launched, you have to create a brand. There are so many apparel businesses out there, and you have to find a way to stand out. How consumers perceive your company is important. As you can imagine, building a brand doesn't happen overnight. It takes time and effort. Make sure to highlight your qualities and the benefits that your fashion brand offers. If you have the necessary time, create a logo. Visuals are the first things that come to mind and will help you get the attention you need.
Categories

New Posts

Hot Posts